Customize electronic registration solutions for
event organizers
Create registration in 2 minutes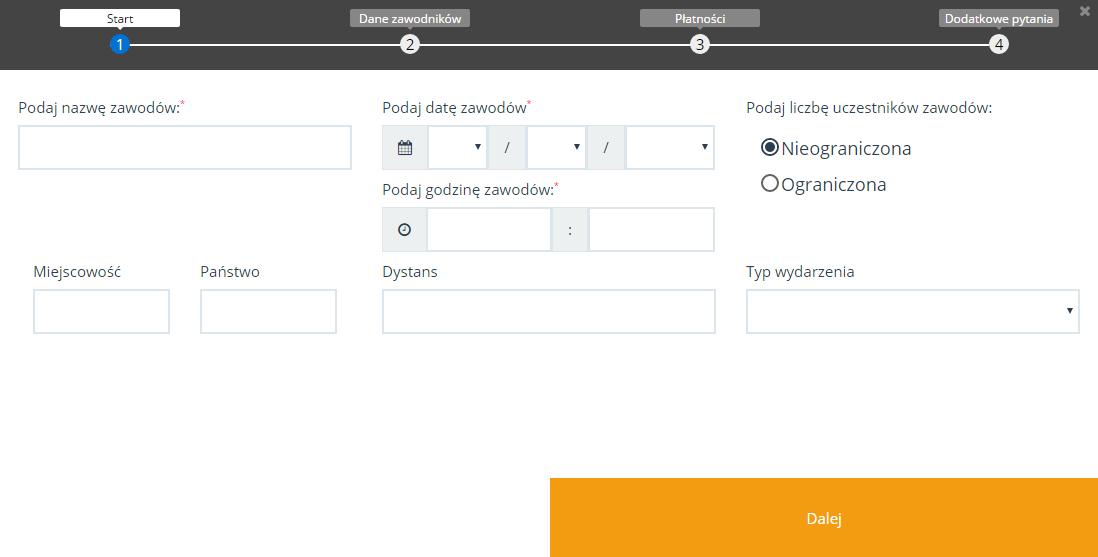 Type general informations
Type general informations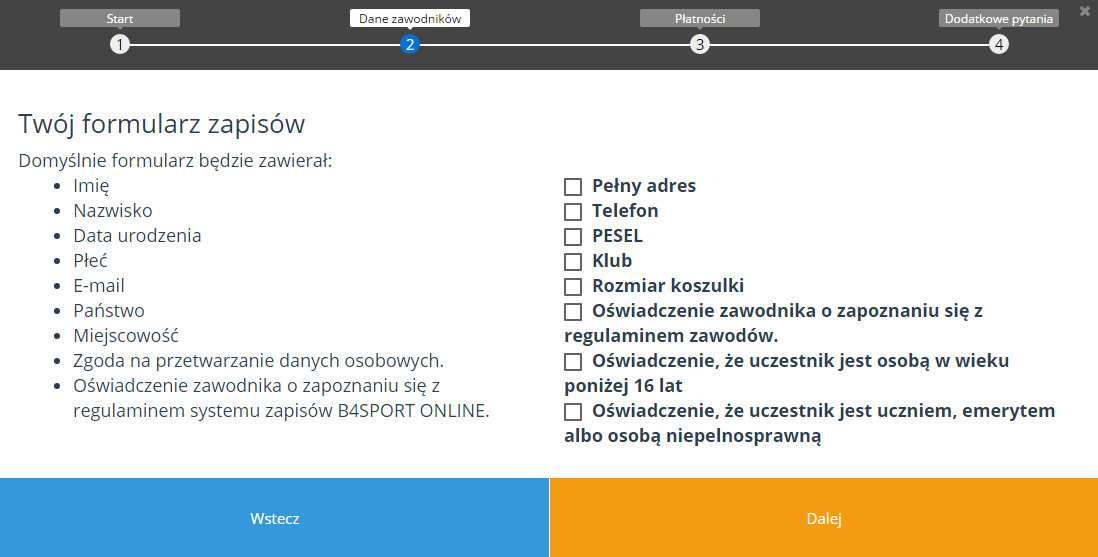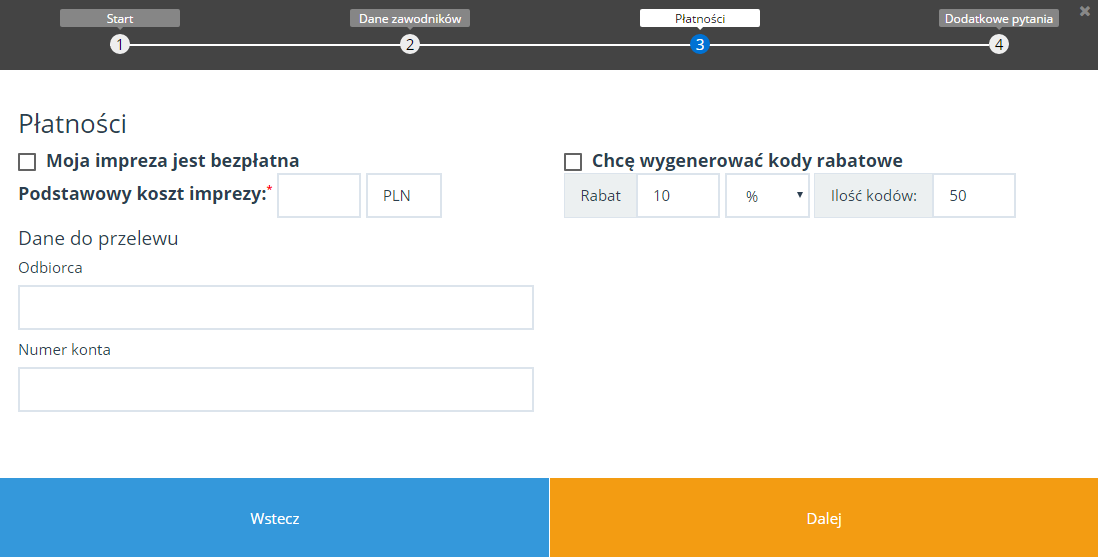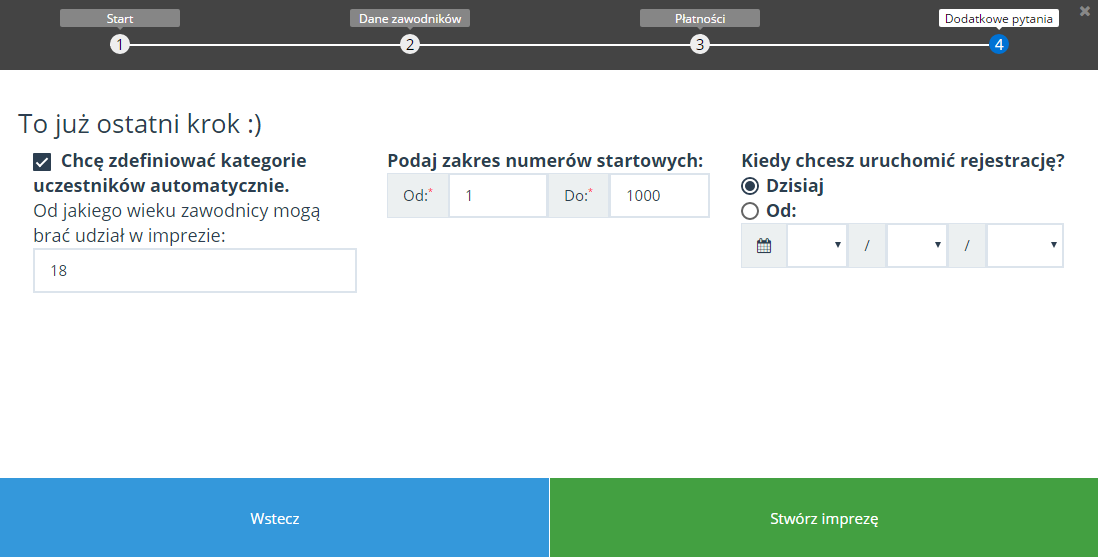 And enjoy possibilities of the B4SPORTONLINE platform
Store Module

You can add an online store to the registration so that participants can buy gadgets offered by you or your sponsor as part of the premium package.

statistics

You have the option to monitor the number of page views and logos clicks. After the competition, you can summarize all the statistics to find out who your participants are.

individual accounts

Each competitor, registered for the event, can create an individual account where they can edit data and view payments. They can also check their results and statistics.

Bib

As an event organizer with access to the database, you have the option of assigning special bib numbers to selected competitors.

Easy Contact

Stay in touch with your participants! Add news and important announcements to the visitor sign-up page.

Discount codes

Easily create percentage or specific discount codes for selected participants of your sports competitions!

Newsletters

You have access to send email campaigns to people attending your sporting event. Build relationships with participants!

consultants

Our team is ready to help you improve and develop your event website so that you can take full advantage of our software.
Make a form suited to your competitions
Owing to the platform, you will create a registration form tailored to your competitions - from simple regifrom for small runs to complicated entries for relay events for cyclical competitions. The system allows you without the help of programmers, to design the entire website for your event - with the possibility of adding news, menu tabs and social plugins.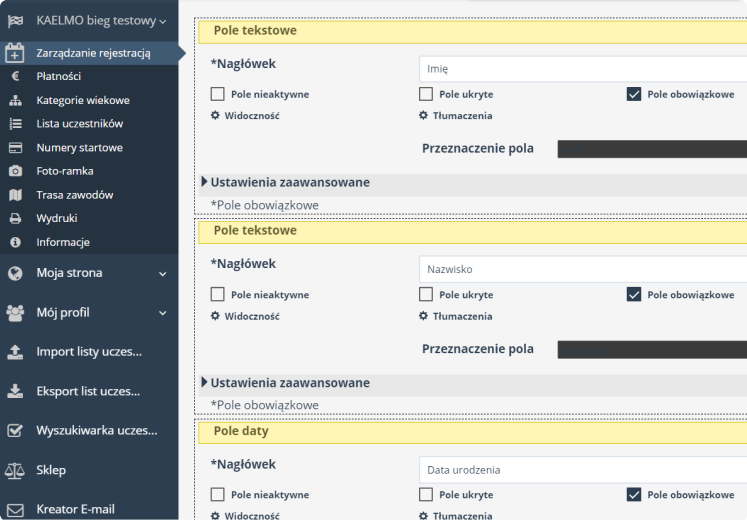 Choose the appropriate package for you
Popular amoung our clients
Premium
150 PLN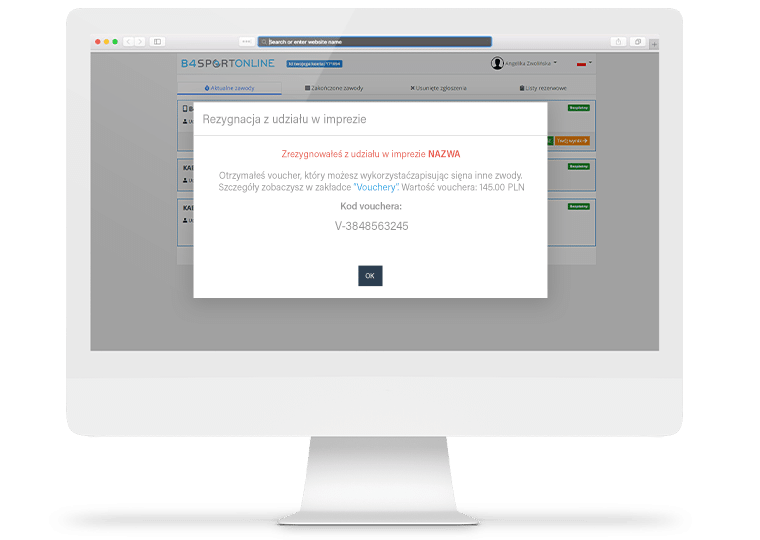 Use the Vouchers module
Encourage your participants to start in your next event by generating special codes for them that they can use when registering for your other sports events. This module will also work when you want to provide flexibility to participants. When a competitor resigns from the event, it is possible to automatically generate a voucher for a percentage specified by the organizer.
Read more
Are you seeking for inspiration or want see what other organizers' websites look like?
Do you still have questions?
Contact us
+48 720 855 445
+48 523 076 410
kontakt@b4sport.pl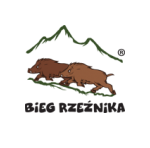 Fundacja Bieg Rzeźnika
Poprzez system pomyślnie rejestrujemy tysiące zawodników na nasze zawody organizowane przez Fundację Bieg Rzeźnika. Zapisy w początkowej fazie są bardzo obciążone, a system sprawnie sobie z tym radzi. Bardzo cieszy nas również możliwość zarządzania listą rezerwową i wysyłka newsletterów.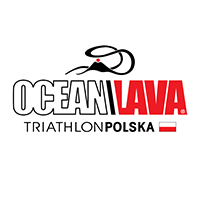 Triahlon Polska
Zdecydowaliśmy się na B4SPORT, ponieważ zależy nam na profesjonalnej obsłudze już przed samymi zawodami. Bardzo podoba nam się to, że uczestnicy mogą nabyć nasze gadżety już w trakcie trwania rejestracji i dokonać płatności online w każdym momencie.

Runaway Polski Uciekinier
Zdecydowanie POLECAMY Firmę B4SPORT jako Partnera do imprez sportowych. Do zobaczenia na kolejnych eventach marki Runaway Polski Uciekinier.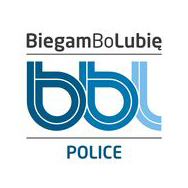 BBL Team Police
Najlepsza firma pomiarowa! Od kilku lat współpracujemy przy różnych imprezach sportowych i profesjonalne podejście jest za każdym razem. Dziękuje Panu Tomku za fachowość, szybką realizację. Polecam wszystkim zainteresowanym poszukujących firmy z pomiarem czasu. Jesteście najlepsi!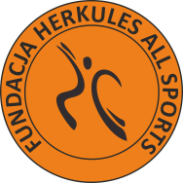 Firma Herkules
Jako timer i organizator korzystam z systemu rejestracji dla ponad czterdziestu zawodów w roku, w tym biegów, nordic walking, triathlonów i sztafet.. Po zakończonych zapisach mogę spokojnie zająć się pomiarem czasu i mam pewność, że wszystko zostało zapięte na ostatni guzik.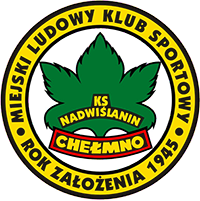 MLKS Nadwiślanin Chełmno
Jesteśmy bardzo zadowoleni z trwającej kilka lat współpracy z firmą B4SPORT. Firma spełnia nasze oczekiwania w zakresie usług informatycznych w tym elektronicznego pomiaru organizowanych przez nas biegów oraz prowadzenia ich strony. Firma B4SPORT to zespół ludzi z doświadczeniem potrafiący się dostosować do potrzeb klienta. Gorąco polecam firmę B4SPORT.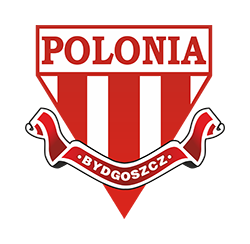 Polonia Bydgoszcz SLA
Zdecydowanie polecamy B4SPORT jako wiarygodnego, sprawdzonego partnera do wspólnego przygotowania imprez i zawodów sportowych. Organizator otrzymuje nie tylko przyjazne i wygodne w obsłudze narzędzia cyfrowe, które ma możliwość w łatwy sposób dostosować do swoich potrzeb, dokładny pomiar czasu, ewidencję uczestników oraz życzliwość i merytoryczne wsparcie pracowników firmy na wszystkich etapach przygotowań.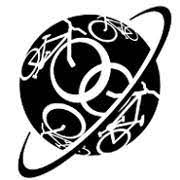 Bydgoska Masa Krytyczna
Wielokrotnie korzystaliśmy z rozwiązań platformy b4sportonline.pl. Administrowanie procesem rejestracji na organizowane przez nas rajdy jest niezwykle proste. Polecamy to narzędzie Organizatorom dużych imprez, ale również tych małych. Możliwości, które daje platforma ułatwiają naszą pracę. Nie musimy zmieniać statusu płatności uczestnikom ręcznie, ani martwić się o listy startowe.

Ultramaraton Babia Góra
Z firmą B4Sport współpracujemy od kilku lat przy organizacji biegów górskich na Babiej Górze. Tak, to Oni podejmują się wykonania usługi pomiaru czasu na szczycie "Kró‭lowej Niepogody"! To Oni przebywają na szczycie Diablaka kilkanaście godzin, bo tyle czasu wymaga Ultramaraton Babia Góra. Są niezawodni pod każdym względem i w każdym momencie. Gorąco polecam!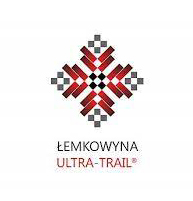 Łemkowyna Ultra-Trail
Bardzo profesjonalna ekipa! Od 9 lat działamy w branży sportowej i przerobiliśmy kilka różnych firm. B4SPORT jest z nami od 3 lat już niezawodnie. Super sprawna i bieżąca obsługa, najmniejszy odsetek (a właściwie promil) niejasności z wynikami, a przede wszystkim super zaplecze IT, dzięki czemu ekipa B4 jest w stanie dostosować formularze zgłoszeniowe, zrobić nowe opcje przy płatnościach itp.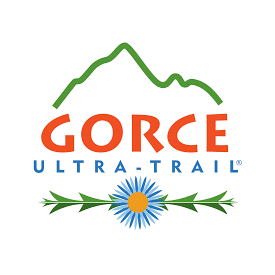 GORCE ULTRA-TRAIL
Jedna z niewielu firm pomiaru czasu reagująca naprawdę sprawnie na wszelkie zgłoszenia. Plusem jest również regularne poszerzanie oferty oraz elastyczne podejście do zleceń, zwłaszcza w obecnych czasach. Szczerze polecam.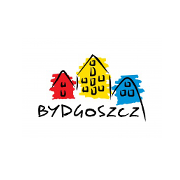 Aktywna Bydgoszcz
W organizowanych przez nas zawodach liczy się przede wszystkim atmosfera, a dzięki możliwościom formularza zapisów zbieramy dokładnie te informacje od uczestników, które potrzebujemy. Cieszy nas również potencjał marketingowy systemu, pomagający nam przy rozmowach ze sponsorami.